Development of sustainable urban mobility in the area of the Koszalińsko-Kołobrzesko-Białogardzki Functional Urban Area through the construction of bicycle paths in the town of Białogard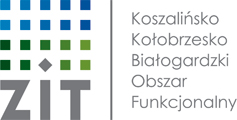 Town of Białogard - This project covers the construction of 19.6 km of bicycle paths including infrastructure (parking spaces with street furniture, illumination) in the town of Białogard.
These routes will offer a perfect alternative to individual car transport. The bicycle paths covered by the project will connect the town of Białogard with other localities in Białogardzki District, which will make it easier for the local residents and those from the neighbouring communes to use bikes to ride to school, work and other public institutions in Białogard.
Another advantage for the residents will be the possibility to get safely from various parts of Białogard to the transfer hub located by the railway station. The project envisages the construction of monitored sheltered parking spaces for bikes to make it easy to use public transport (railway, buses).
The project will be implemented in the years of 2016 – 2018.
Signing the project co-financing agreement: 27 June 2017
Total value of the project: PLN 6 104 346.54
Co-financing from the European funds: PLN 4 853 397.32
Completion of the investment: December 2019